---
Metal Displays Split
Order by 1pm Today, Same Day Dispatch
Select Size
8 x 8 in
10 x 10 in
12 x 12 in
16 x 20 in
8 x 8 in
10 x 10 in
12 x 12 in
16 x 20 in
Pack of 3 (3x1)
Pack of 4 (2x2)
Pack of 3 (3x1)
Pack of 4 (2x2)
Pack of 3 (3x1)
Pack of 6 (3x2)
Pack of 3 (3x1)
Pack of 4 (2x2)
Pack of 6 (3x2)
Pack of 9 (3x3)
Pack of 6 (3x2)
Pack of 9 (3x3)
Pack of 9 (3x3)
Offer ends 6th December
Order by 1pm, Same Day Dispatch
Last order dates for Christmas
16th December with Standard Shipping
19th December with Expedited Shipping
20th December with Rush Shipping
100% satisfaction guarantee
4M+ happy customers
Eco-friendly production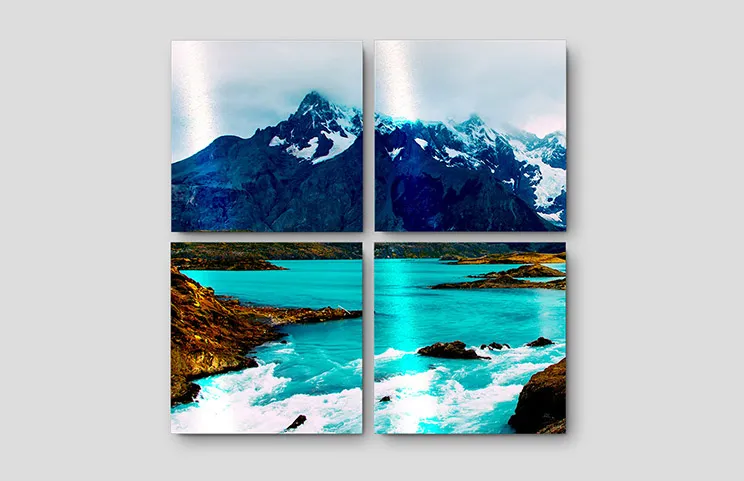 ---
Live Customer Reviews
Product Details
Put your photos onto metal and create a stunning metal display with this metal print split.
Choose one photo and split it over several metal panels for a striking photo wall feature. Choose a photo you love and it will transform any space. For best results choose a high-resolution image.
Your photos will be heat bonded onto the aluminium for a lasting quality print.
HD printed using molecular bonding techniques
Premium quality
Aluminium panels
Matte finish
Create a display
Customizable
Easy online creation
Why Printerpix?
At Printerpix, our mission is bringing people together with our custom photo gifts. That's why we're constantly working and improving to give you the best-ever quality products that you deserve.

With millions of happy customers worldwide, we're experienced at what we do, and we guarantee our photo gifts will spread joy to you and your family.

Our 100% Satisfaction Guarantee means if you're not happy, we won't rest until you are. We know how precious your photo memories are. That's why we're committed to your satisfaction.

Our customer support team are always on hand to help and we'll do whatever it takes to make it right, whether that's a reprint of your order or your money back. That's guaranteed.

---
High Quality Finish

The sleek metallic finish brings out the vibrancy of each picture. Place near light to make your photos shine.



Incredible Detail

Your photo is bonded onto a premium metal panel to bring out all the rich colors in your photos. Choose a good quality image and you'll be amazed at the incredible details. Relive your favorite moments thanks to these high-definition prints.


Large Orders
If you're planning to place an order for more than 10 items of a given product we have amazing special discounts for you. Please visit ourLarge Orders Pageto make an enquiry.
How it works
Personalisation made easy, quick and fun!
Upload
Upload your pictures from any device including social media
Create
Personalize and create to your taste from background, layout and text
Check out
Secure and easy checkout
Love
Love your product with 100% guarantee!