Being close to your family, you must have a rich history of memories captured in physically printed photos.
But over time, these photos can fade and show signs of wear and tear. It's important to save these moments of history and preserve them forever.

What's the reason for restoring old photos? Maybe you want to create a lovely anniversary, Christmas, memorial or birthday gift for your parents, grandparents and other family members. It's also a moment in time that cannot simply be replicated. Iconic landmarks and places that no longer exist but would bring lots of nostalgia for someone in your family who hold fond memories of them. As they say, a picture is worth a thousand words.
Here's our tips on how to restore your old photos.
How to scan your old photos
Before we start, you will need to scan your old photos. Lucky for you, we have an article on how to do just that: How to Scan Old Photos.
⓵ Do it yourself
Up to doing the job yourself? You may already have the tools and the skills, or you are willing to provide the time to learn. To learn will not only give you total control over what you want to fix on your old scanned photos but would also provide you with an additional skill that may come in handy if you need to repair or do touch ups on your recent photos.
What to use to edit your photos
Software for editing your photos. There's a wide variety of software that can be used to help fix and restore your photos such as Adobe Photoshop and PaintShop pro. But you may not want to shell out for software, GIMP and Snapseed are free to use.
What to consider when editing your photos
Each software works differently from each other or has exclusive tools. You can find a lot of online tutorials and videos to help guide you in restoring your photos with the software of your choice.
Look out for these tools to help you fix up your photos:
Clone Stamp Tool – A brush that clones parts of an image. This is great for replicating patterns or skin textures. Handy in removing blemishes.
Lasso Tools – When editing and fixing certain sections of a photo, you can use this tool to select and isolate certain parts of your photo. So when you edit or use filters they will not affect the rest of the image outside of the isolated selection.
Healing Brush Tool and Patch Tool – Can help fill in missing parts of a photo. Select the section of the photo with a lasso tool and use the healing and patch tool to remove particles and cracks in photos.
Color Correcting – If your photos are colored but are taking on a yellowish tint, you can fix that using this tool.
Brightness and Contrast – Brightness can make a dark image brighter. Couple with contrast to bring better definition.
Dust and Scratches Filter – Used to smooth and remove dusts and scratches.
Sharpen Filter – Sharpen images that bring out smaller details in an image.
⓶ Let the software do it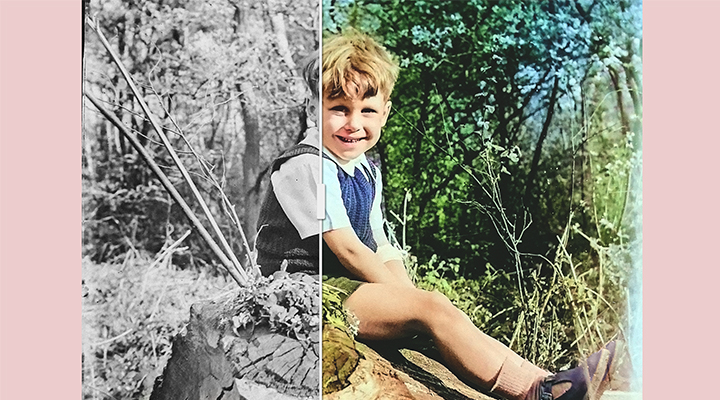 There are many software and apps that can make the job of restoring worn and damaged old photos painless and less time consuming. But be warned, depending on how damaged your old photos are, some of these software and apps can be quite hit or miss when it comes to the quality of restoration.
Here are some restoration software and apps we recommend:
PhotoGlory – https://photoglory.net/
Removes scratches, creases, tears and stains. Restore washed out images and add labels and time stamps. Also features a one click tool that automatically colors black and white photos.
AKVIS Retoucher – https://akvis.com/en/retoucher/index.php
Can be purchased as a program or a photoshop plugin. Removes scratches, dust, stains and other damages, as well as being able to reconstruct missing parts of a photo. Test out the free trial before you buy.
Remini – https://remini.ai/
An app for smartphone users and simple to use. Helps colorize and enhance old photos. Requires some payment to unlock features.
⓷ Ask someone to do it for you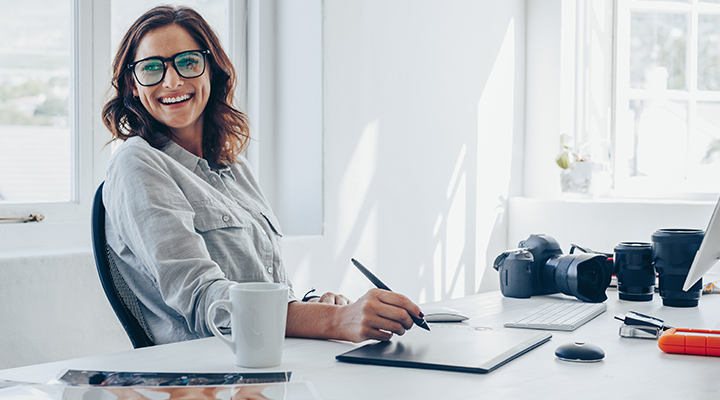 You may be lucky and know someone who is willing and skilled in helping you restore an old photo. However, not everyone who has access to Photoshop or is good with pictures would be capable of restoring a damaged photo. Again, depending on how damaged the photo is, it can be quite a daunting task and would require a good deal of time for them to fix. Be accepting and understanding if they seem hesitant or are unable to fulfil the task, especially if you are requesting them to do this for free.
If you are open to paying for their services, provide all the information they need about the task, .e.g. How many photos, samples of how damaged they are, etc. Allow them to make a quote and provide a date for completion, rather than you giving them an offer and a deadline.
There are plenty of online services that provide photo restoration at a price. A quick google search will show many results of services offered.
We recommend, Forever Studios, a premium photo restoration service that restores your damaged photos, and even colourize black and white photos, by a team of adobe certified artists.

Online social media communities provide restoration services too. Places like Reddit and Facebook can provide photo restoration services for free. However, be mindful that quality may vary and that a restoration project may take a long time to complete or can be completely dropped. Please be mindful of the rules and pinned posts by the community moderators before posting your request.
⓸ Time to print and present

Now that you have your old photos restored, it's up to you how you want to present them. You can simply print them out, but there are many creative ways for you to have them printed.
If you have multiple photos, a Leather Photo Book, Debossed Leather Photo Book or a Layflat Photo Book are highly recommended for class and high quality presentation.
For a single photo or two, you can print them out as a photo print or have them displayed on the wall as a classic Framed Print or Premium Canvas or longevity.
You can even create a lovely greeting card for your nostalgic family member. We have cards for all occasions that you can upload your photos to print on.
Checkout the rest of our online shop for unique photo gifting ideas.