Father's Day is coming up! If you're scratching your head trying to come up with the perfect words to put in your Father's Day card, don't stress out. We've put together a fantastic list of the best 50 Father's Day quotes to help you out. Whether you want to go the heartfelt, funny, or inspiring route, we've got it all. But you know what's really great about these Father's Day quotes? They're not just for dads! You can use them to celebrate all the father figures in your life – whether they're your stepdad, grandpa, uncle, brother, husband, or just a good friend who's always there for you.
Heartfelt Father's Day Quotes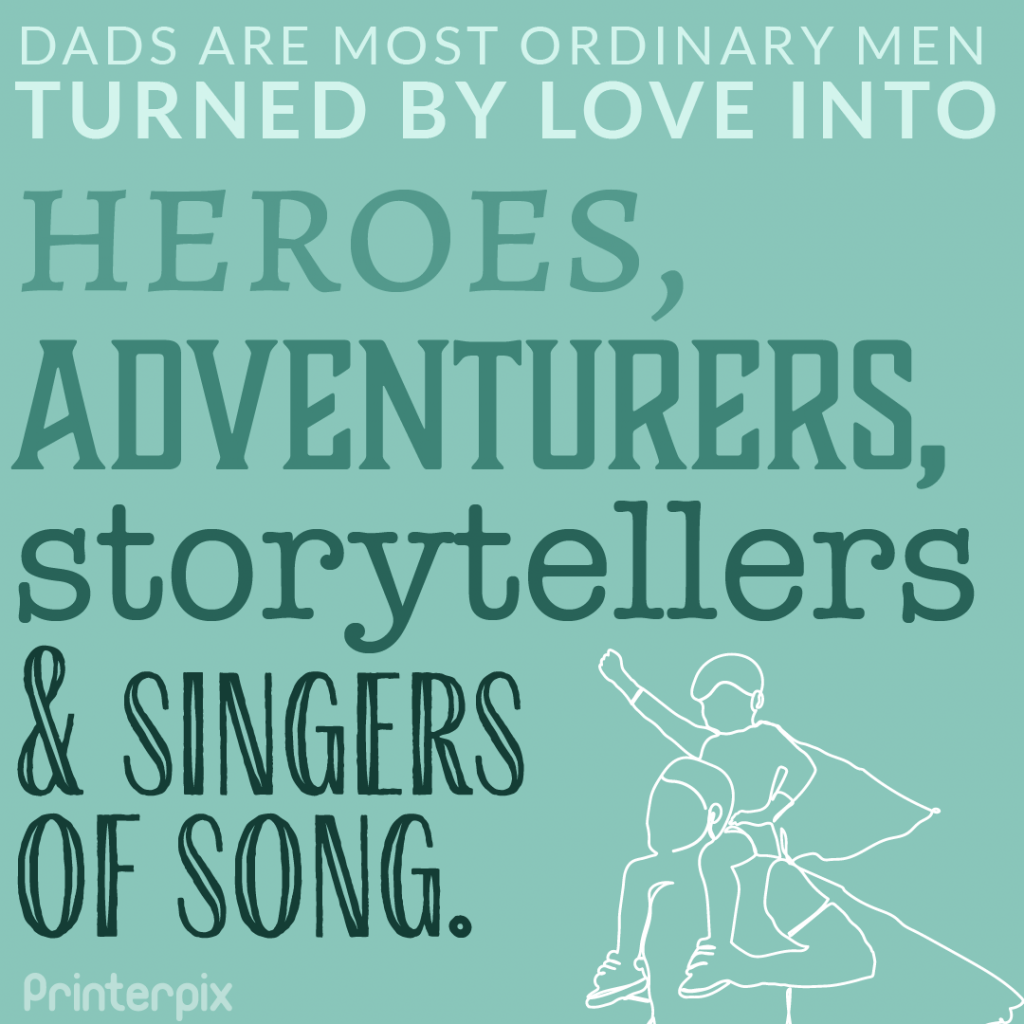 "Dads are most ordinary men turned by love into heroes, adventurers, storytellers and singers of song." – Unknown
"When you need real understanding, when you need someone to care, when you need someone to guide you, a father is always there." – Thomas J. Langley
"She did not stand alone, but what stood behind her, the most potent moral force in her life, was the love of her father." – Harper Lee
"A father is neither an anchor to hold us back nor a sail to take us there, but a guiding light whose love shows us the way." – Unknown
"I cannot think of any need in childhood as strong as the need for a father's protection." – Sigmund Freud
"The heart of a father is the masterpiece of nature." – Antoine François Prévost
"Sometimes I think my papa is an accordion. When he looks at me and smiles and breathes, I hear the notes." – Markus Zusak
"A father is someone who can take the place of all others, but whose place no one else can take." – Unknown
"They go beyond. They go above. Fathers have mastered how to love." – Keion Jackson
"Son, brother, father, lover, friend. There is room in the heart for all the affections, as there is room in heaven for all the stars." – Victor Hugo
Funny Father's Day Quotes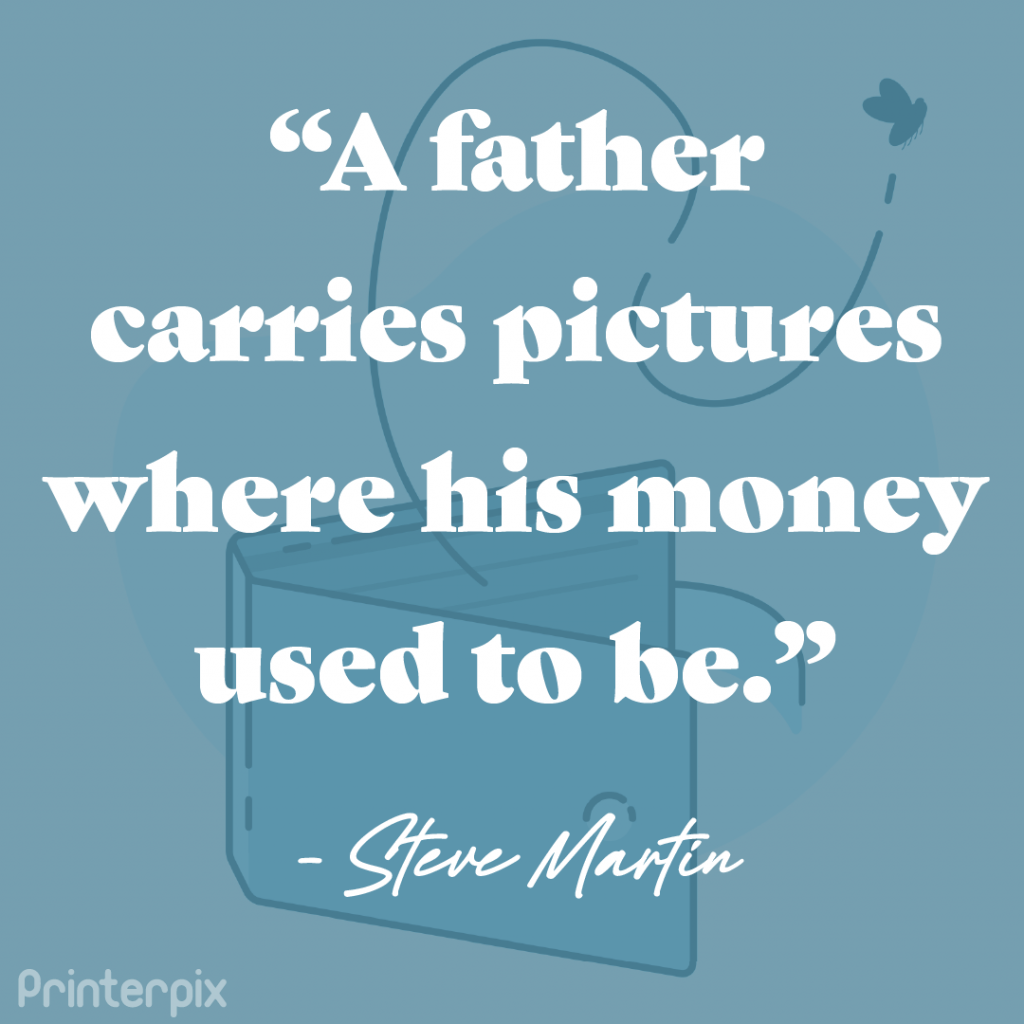 "Being a great father is like shaving. No matter how good you shaved today, you have to do it again tomorrow." – Reed Markham
"Dad, you've always been like a father to me." – Unknown
"I've been to war. I've raised twins. If I had a choice, I'd rather go to war." – George W. Bush
"A father carries pictures where his money used to be." – Steve Martin
"Being a dad is 30% patience, 20% heart, and 50% making stuff up." – Bill Gray
"Dad taught me everything I know. Unfortunately, he didn't teach me everything he knows." – Al Unser
"Fatherhood is great because you can ruin someone from scratch." – Jon Stewart
"You can tell what was the best year of your father's life because they seem to freeze that clothing style and ride it out." – Jerry Seinfeld.
"My father had a profound influence on me, he was a lunatic." – Spike Milligan
"A father is a banker provided by nature." – French proverb
First Father's Day Quotes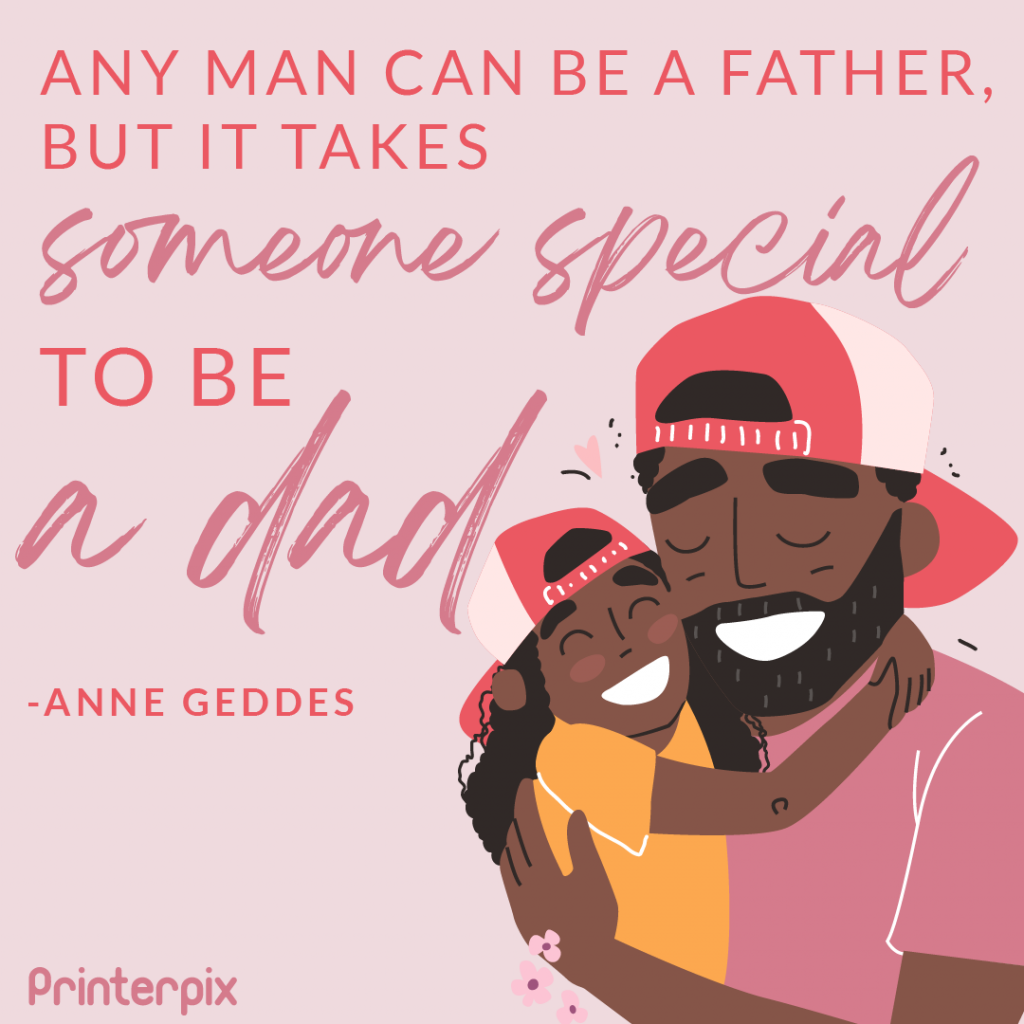 "The nature of impending fatherhood is that you are doing something that you're unqualified to do, and then you become qualified while doing it." – John Green
"Any man can be a father, but it takes someone special to be a dad." – Anne Geddes
"A father is the perfect blend of superhero, coach, and friend." – Jeannie Hund
"The best gift a man can give to the world is to be a good father." – Renee Daniels
"It's an ongoing joy being a dad." – Liam Neeson
"What makes you a man is not the ability to make a child, it's the courage to raise one." – Barack Obama
"I'm a father; that's what matters most. Nothing matters more." – Gordon Brown
"Being a dad isn't easy…but when somebody does it right, it reminds the rest of us what a world-changing difference a good dad can make." – Andrew Blackburn
"There is nothing that moves a loving father's soul quite like his child's cry". – Joni Eareckson Tada
"I believe that what we become depends on what our fathers teach us at odd moments, when they aren't trying to teach us. We are formed by the little scraps of wisdom." – Umberto Eco
Father's Day Quotes for Husbands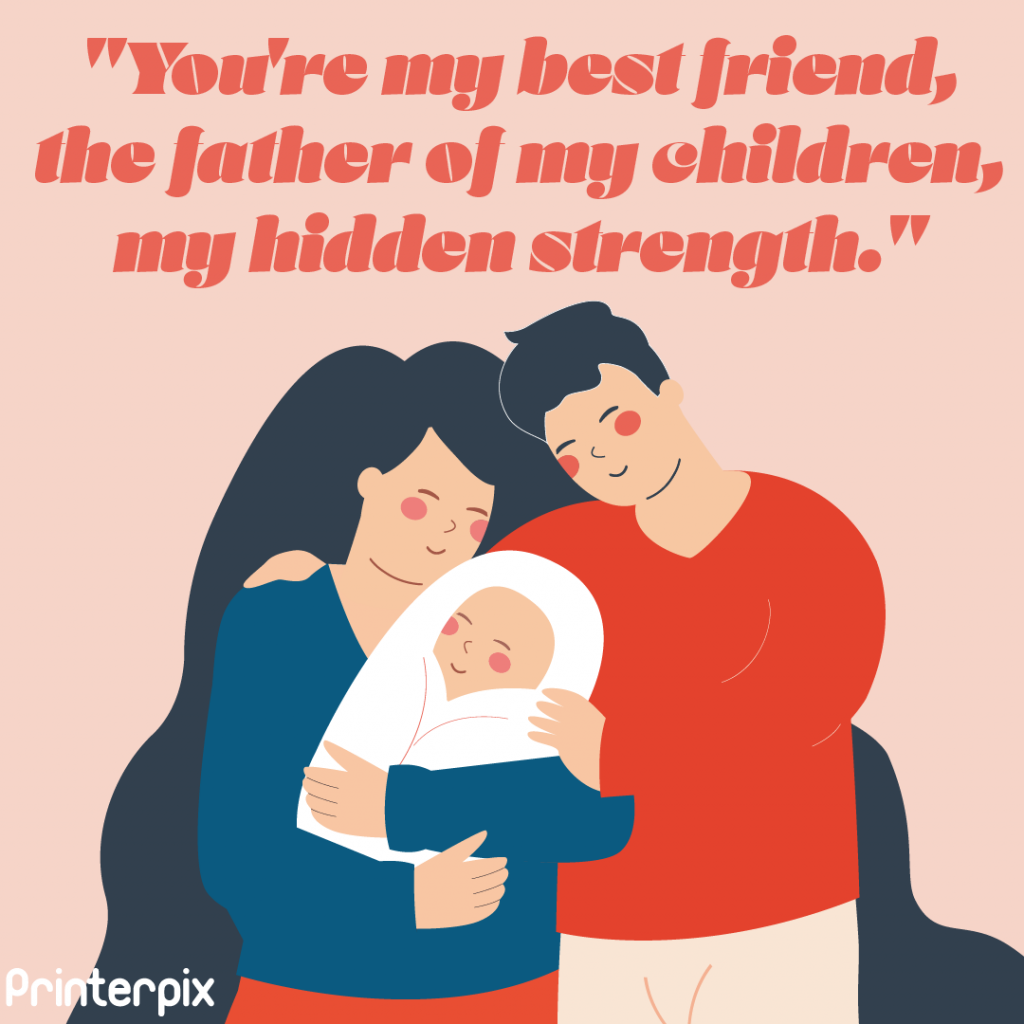 "The only thing better than having you for a husband is our children having you for a dad." – Unknown
"A dad prays for strength to protect his family, wisdom to guide them, and humility to learn as he goes." – Megan Haave
"The greatest thing a father can do for his children is to love their mother." – John Wooden
"I always thought you'd make a great dad. Now, I know it. Happy Father's Day to an amazing husband." – Unknown
"A great father makes his family feel so blessed." – Diana Manning
"No man stands taller than when he stoops to help a child." – Abraham Lincoln
"Nothing has brought me more peace and content in life than simply being a good husband and father." – Frank Abagnale
"My Father's Day gift to you is letting you pretend to be in charge of the family for a day." – Unknown
"A happy family is a reflection of a good father and a loving husband." – Unknown
"You're my best friend, the father of my children, my hidden strength." – Unknown
Short Father's Day Quotes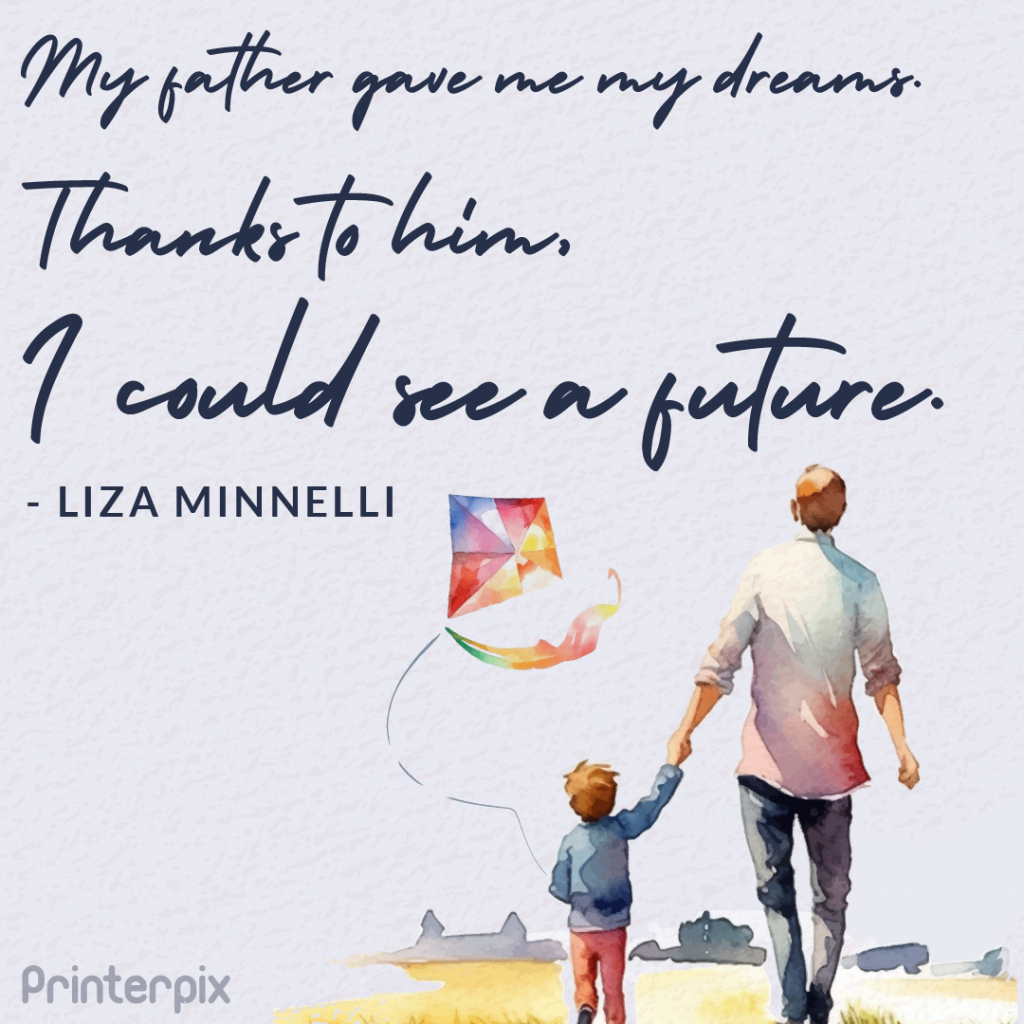 "A father's smile has been known to light up a child's entire day." – Susan Gale
"A father is someone you look up to no matter how tall you grow." – Unknown
"No music is so pleasant to my ears as that word – father." – Lydia Maria Child
"My father gave me my dreams. Thanks to him, I could see a future." – Liza Minnelli
"My father didn't tell me how to live. He lived and let me watch him do it." – Clarence Budington Kelland
"Every son quotes his father, in words and in deeds." – Terri Guillemets
"To her, the name of father was another name for love." – Fanny Fern
"DAD: Tiny little word. Great big difference." – Keely Chace
"When my father didn't have my hand, he had my back." – Linda Poindexter
"A father's love is forever imprinted on his child's heart." – Jennifer Williamson
And that's a wrap on our list of the 50 best Father's Day quotes! We hope you've found the perfect message to express your love and gratitude for the fathers and father figures in your life. Whether you're planning to spend the day with your dad or send him a message from afar, make sure to let your biggest supporter know how much he means to you.

Need Inspiration?
Check out our Instagram!