February is time for new beginnings
Why are there 28 days in February? A legend states that Emperor Augustus stole a day from February to add it to the month after him, but this probably isn't true. The real reason is because originally there were only 10 months. The Romans added two new months (January and February) so that the calendar would match the Moon more accurately, but they had to cut one month otherwise the calendar would fall out of sync, so they cut February.
Whilst January is known as the time for fresh starts and new beginnings, there's nothing to stop you from starting afresh in January. For most of us, this has been a tough month, so let's take some time to pause and reflect on January and look to the month ahead.
Make working from home, work for you
Many of us are working from home still, and it can be hard to muscle up the motivation sometimes. If you feel you've fallen out of sync in January, then February is the time to do something about it!
Use this time to rediscover your rhythm: whether you need some cheering up in these winter months or just want to get more organized, discover our 3 must-have work from home accessories for February.
Framed photos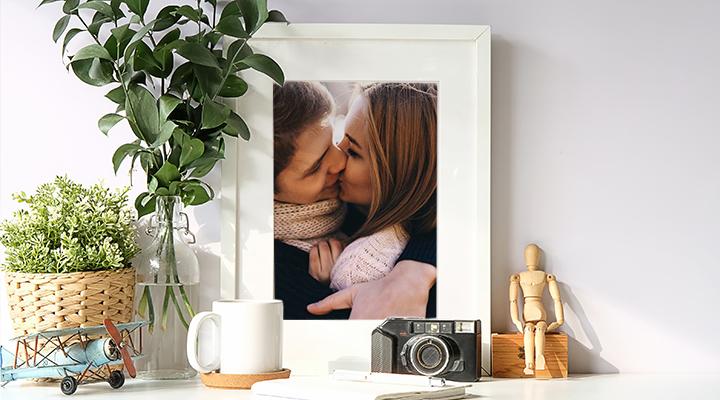 We know that it can be hard to stay focused when your work life merges with your home life. To help you stay motivated, create a workspace that you feel positive about with work from home accessories.
Decorate your home office with objects that make you feel happy and relaxed. Why not brighten up your desk with some photos of friends or family, like you would at your office? This not only reminds you of positive memories, but it makes your workspace feel more like your own, which can help you to stay focused.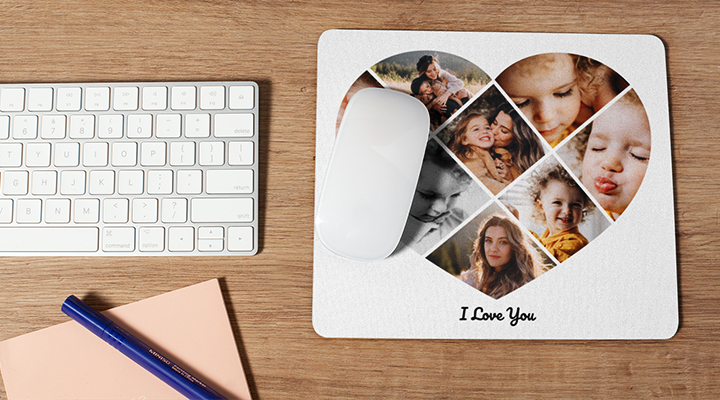 Sitting at a desk all day when working from home can get a little boring. While your job might be boring, your workspace doesn't have to be!
The best workspaces are fun and bright, so jazz up your WFH desk with some colorful personalized accessories. Personalize a mousepad with a photo or design of your choice…perhaps a photo of your kids or a motivational quote.
Even better: you won't have to worry about your mouse scratching the table (admit it, you've probably done it.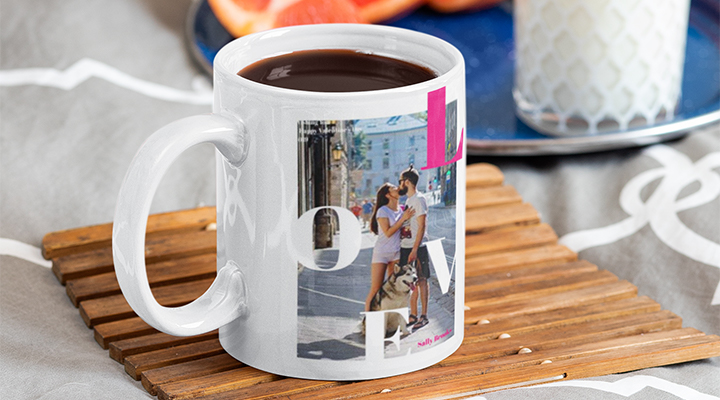 The classic office accessory (except this time, none of your colleagues can "borrow" your mug and then never return it…maybe WFH does have some perks!). We still need coffee breaks at home, and let's face it, the coffee is probably better at home than at work. Put a photo of your partner, your kids or even your dog on a custom mug and you'll be smiling with every sip! (Don't forget about coasters!).
Love your work-from-home set up
We hope this has given you some inspiration to put a little bit more love into your workspace, or your home space, if you're not working from home. Anyone can benefit from a few personal touches and accessories to help them stay motivated throughout the day.
P.S. Still haven't got a calendar? With our personalized calendars, you can start the 12 months from February, or any month you like…be like a Roman and readjust the year to fit your needs.
Shop more work from home essentials >