7 Fun & Creative Photobook Ideas
A personalized photobook is a great way to turn your photos and memories into a stunning, high-quality keepsake. With unlimited personalization, you can embrace your creative side to make a book that's unique to you.
Now we love making photobooks, but did you know there's more to photobooks than just photos? With a whole range of photobook types, layouts and designs, there are many different types of photobooks you can make.
Check out the following photobook ideas for 7 fun and creative ways to use photobooks.
Travel Photobook Ideas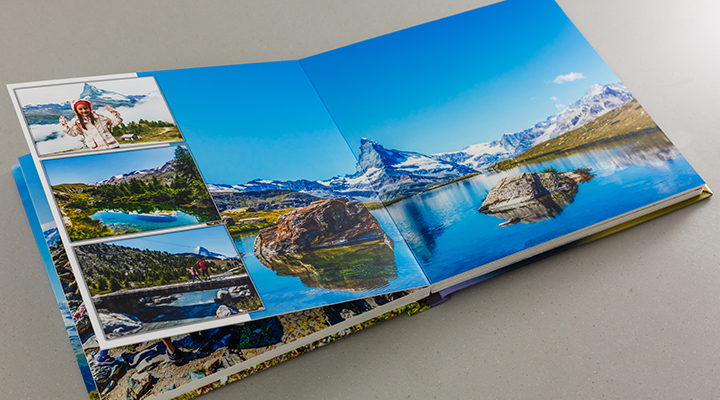 A layflat photobook is a perfect fit for your travel photos. With high-quality layflat binding, the pages lay completely flat, making this style of photobook ideal for panoramic shots, landscape photos and scenic snaps.
For travel photobook ideas, check out our layflat photobooks here.
Baby Photobook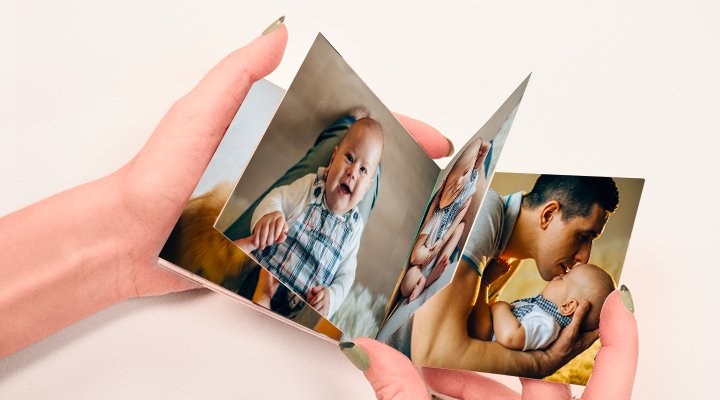 Any parent knows just how precious our baby photos are. In the digital age, our baby photos are often kept on our phones, or shared on social media, where we miss out on the experience of holding these special memories in our hands.
Turn your baby photos into a lasting keepsake by creating your own baby photobook. A mini photobook is the perfect little book for all your precious baby photos, and the handy mini size means it's perfect for popping in your handbag. Keep your memories close at hand so you can share them with friends and loved ones easily.
Make your baby photobook today.
Wedding Photobook Ideas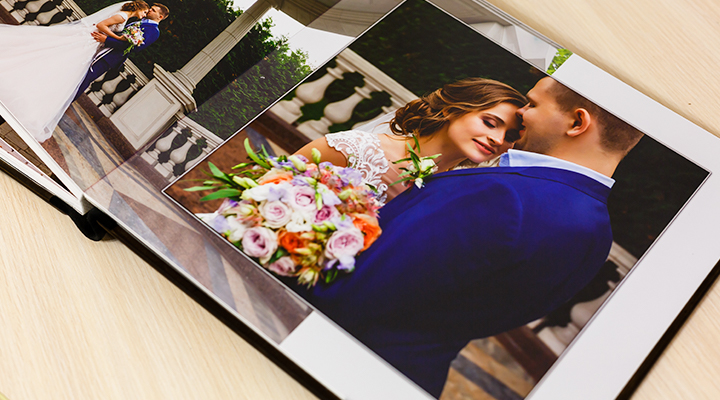 Looking for wedding photobook ideas? One must-have wedding memory keepsake is a photobook or album to record all the special moments of your big day.
A leather photobook is the perfect photobook style for such a special occasion. Bound and wrapped in a luxury leather cover, a leather photobook adds a touch of class and glamour to your wedding album. Upload your wedding photos and customize your book just as you like it.
Our top wedding photobook idea is to add text boxes with your wedding memories. Capture quotes from your guests, write about your favorite moments or include snippets from the wedding speeches. Adding in detail like this alongside your wedding photos allows you to create a truly unique and special wedding memory keepsake that will preserve every precious moment of your big day.
Recipe Book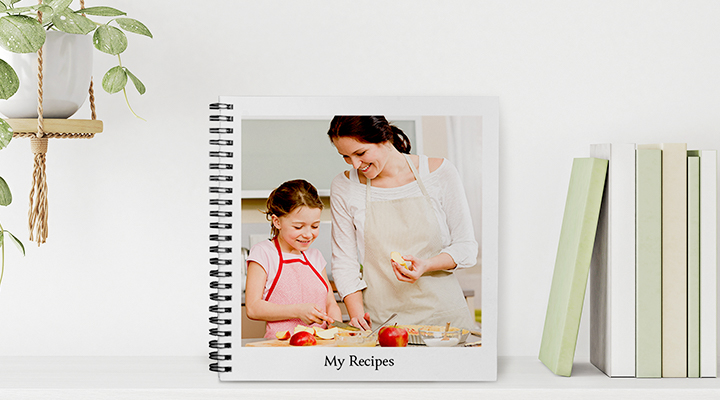 Photobooks can be so much more than photos. Use your creative side and make your own recipe book – this is one of our favorite photobook ideas!
Get together your favorite recipes and feature them alongside photos or drawings of your culinary creations to showcase your best cooking. We all know a budding cook who keeps all their recipes on scraps of paper, or in their head, so this could make the perfect gift, or the perfect family keepsake to get together all the legendary family recipes into one book.
A spiral photobook is the perfect kind of photobook, with wipe-clean vinyl pages and easy ring-binding so you can flick through to find recipes easily. Create your own family recipe book today.
Monthly Memories Book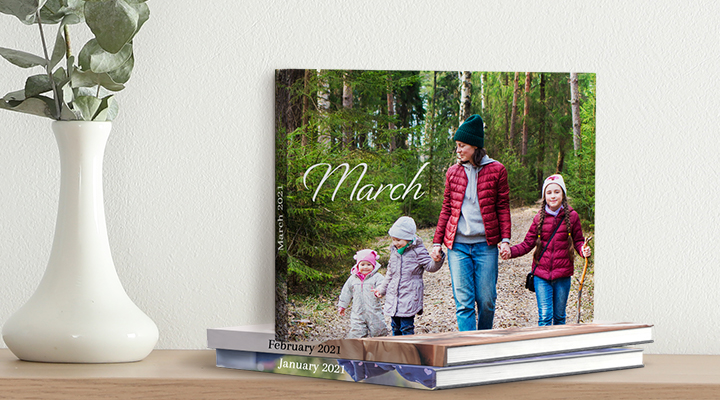 If you're someone who takes a lot of photos, a monthly memories book is the perfect way to document each special moment.
Get together your photos from the month and print them into an album to treasure forever. With a glossy, customizable cover, a hardcover photobook is the perfect choice. Choose your favorite photo for the cover and add the date onto the spine so you can easily find each month in your photobook collection. Create yours here.
Graduation Photobook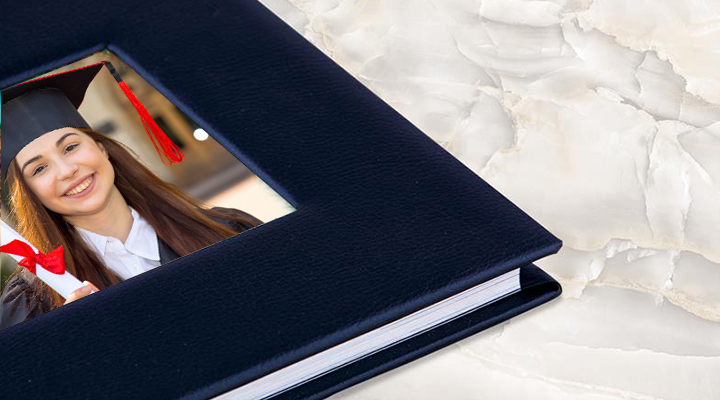 Surprise the brains of the family with a custom graduation photobook. Get together all the special photos from their days at school or college and turn them into a high-quality keepsake album. This is the perfect gift for your son, daughter, or friend who is graduating this year.
Choose the debossed window cover photobook and you can personalize the photo on the cover for an extra-special touch.
Kid's Drawings Book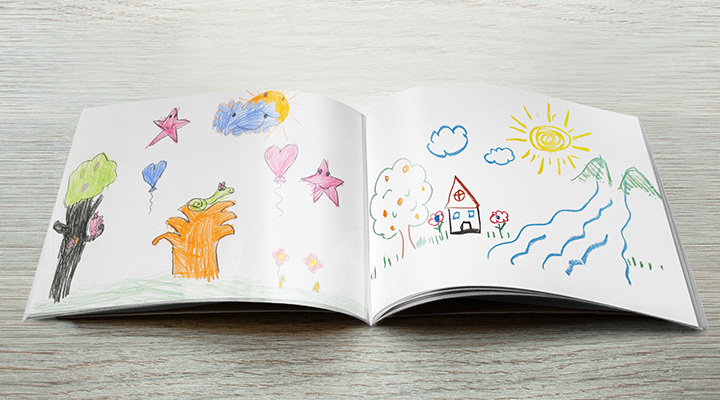 If you've got children, you'll know how annoying it can be to hold on to pages and pages of your kid's artwork. You would hate to throw those precious drawings away, but they're starting to fill all your cupboards and you're running out of space!
We've got the perfect solution. Simply scan their drawings or take a photo, and then you can print them into a photobook. Get your kids involved and they'll be so excited to see their artwork printed in a real book. Now, you can hold on to the memories and ditch the clutter…win-win!
A softcover photobook is the perfect choice – the flexible binding is kid-friendly and it's a budget-friendly option so you can print multiple copies and make multiple books without breaking the bank.
Feeling inspired? We'd love to see your photobook ideas and photobook creations. Don't forget to show us on Instagram with the hashtag #MyPrinterpix